Home Inspections for Denver Area
A Healthy Home's Residential Home Inspection for Denver area residents is a complete visual inspection of Home Systems, with a detailed Inspection Report (not a checklist type report). We take the time needed to perform a thorough home inspection.

Our home inspector gives special attention to issues with the roof, foundation, structure, furnace and moisture problems. Our home inspections include equipment many other inspectors don't have. Moisture Meter and Inferred Camera are used for interior moisture detection, to help identify leaking roofs, foundations or plumbing. Carbon Monoxide and Combustible Gas detectors are used for screening the furnace. Also, our home inspector checks appliances and many items other home inspectors skip. Home inspections include a thorough report with photos and descriptions. Our home inspector has many years of experience, and has received training from ASHI, NACHI and local home inspectors. He has worked as an engineer. He is also an environmental expert with experience testing for mold, asbestos, lead paint, radon and other environmental concerns.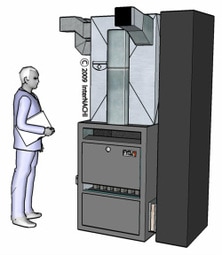 General Home Inspection Items:
Roof - covering condition, flashing, ventilation, structure, gutters, hail damage
Foundation and Structure - heaving, settling, cracks, framing, foundation
Exterior - siding and trim, flashing, drainage, decks, walkway, driveway
Interior - doors, safety, stairs, floors, walls, ceilings, cabinets
Windows - screens, fogged glass, functional
Electrical - main panel, aluminum wiring, grounding, GFCI's, outlets, lighting
Plumbing - water heater, faucets, showers, toilets, sump pump
HVAC - furnace/boiler and A/C inspection and dating, CO and combustible gas leaks, safety switches, registers, return air
Moisture Intrusion - check with moisture meter and IR camera for shower leaks, toilet leaks, roof leaks, foundation leaks, plumbing leaks, mold.
Attic and Crawl Space - ventilation, insulation
Kitchen Appliances - manufacture date and recalls if possible, operable
Attached Garage - firewall separation, fire rated self closing door, automatic garage door openers
Safety - railings, steps, CO detector, smoke detectors, fireplace, basement egress
---
Sample Home Inspection Reports
​Click on the files to download a sample report or View On Scribe without downloading. Our reports include both a full report for the home buyer and a general summary report for the agents or seller. 2 sample reports are available for your viewing.

Residential Home Inspection Prices:
Not attending – payment and signed agreement due before inspection.
Attending – payment and signed agreement due at the end of inspection.
Age – house over 50 years old add $35.

House Condo
less than 1000 sq ft $250 $200
1000 to 2000 sq ft $275 $225
2000 to 2500 sq ft $300 $250
2500 to 3000 sq ft $325 $275
3000 to 3500 sq ft $350 $300
3500 to 4000 sq ft $375 $325
4000 to 4500 sq ft $400 $350
4500 to 5000 sq ft $425 $375
Over 5000 sq ft - call for pricing

Radon Testing $85 with Inspection; regular price $110
Mold Level 1 (1 suspect area, 2 samples) $130 with Inspection; regular price $240
Mold Level 2 (2 level house, 3 samples) $195 with Inspection; regular price $320
Mold Additional Samples $65



​Advice for home buyers and home owners
Our advice is general information to help inform homeowners. Homeowners with specific problems should seek the advice of experts and professionals that have the appropriate expertise. Use the links provided below to help find websites and professional that can provide more information.
​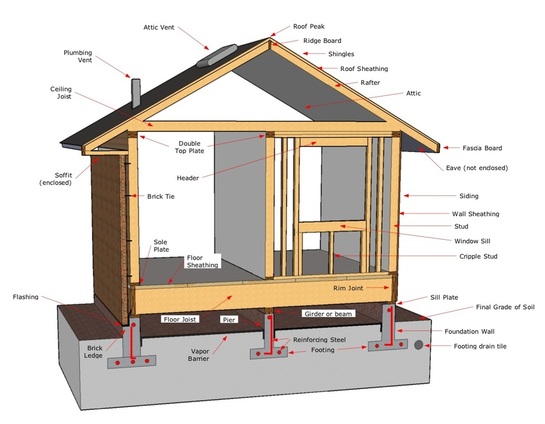 ​ROOFS
Buyers should ask the seller about the age of the roof and if there have been any problems they have experienced.

Roof Types
3-Tab asphalt/fiberglass shingles most common roof type (lasting about 18+ years in Colorado with good ventilation, installation, etc.)
Architectural - also asphalt/fiberglass shingles but thicker lasting 5 to 10 years longer
Cedar Shakes or Shingles - Depends on quality of shingle but on average they last about 20 years, but if bad shingles are replaced periodically they can last over 25 years.
Concrete Tile – with maintenance can last up to 50 years
Metal Roof – most require some type of protective coating be applied periodically.
Membrane or Torch Down – for flat roofs, trouble begins if puddles form. With proper maintenance and slope they can last 25 to 30 years, but when they are nearly flat they are likely to last less than 10 years.

Skylights are notorious for leaking. Sometimes they only leak in certain extreme weather conditions.

Attic ventilation helps the shingles reach their full life expectancy. Soffit vents combined with ridge vents or louvers provides the best passive ventilation. Active ventilation can be added to the attic if passive vents are not effective.
​
FOUNDATIONS and STRUCTURE
Foundations –
Stone and concrete block foundations do not perform as well as modern poured concrete foundation. They are much more prone to cracking and leaks then concrete foundations. Most newer foundations in the Denver area are supported on concrete reinforced piers. The piers usually extend from the bottom of the foundation walls, through the soil and into the bedrock. This type of foundation helps with clay expansive soils. A gap under the foundation walls keeps swelling soil from pushing upwards on the foundation walls. The diagram above shows a "spread-footing" type of foundation used more extensively on older houses.
Expansive soils -
Many Denver neighborhoods are built on expansive soil. These soils expand when wet. This can direct enough pressure on the foundation to cause structural problems. The key is to direct water away from the foundation. So, gutters, downspout extenders, sump systems and grading are very important to maintain around these houses.
The Colorado Geologic Survey has a guide for home buyers concerning expansive soils
http://coloradogeologicalsurvey.org/about-cgs/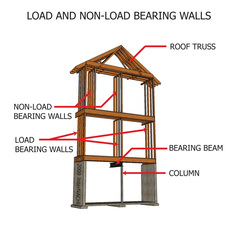 ​Structural Support - Most houses are support by the foundation walls and a system of posts and beams to support the floor joists. The floor joists support load bearing exterior walls and interior walls that are over beams when there is another level above. Roof trusses are usually support by the exterior walls.
​
---
​​ELECTRICAL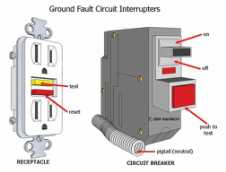 Aluminum Wiring - Some homes built between 1965 and 1975 had single-strand aluminum wiring. The aluminum wire would come loose at connections to receptacles and switches. COPALUM connectors were created to fix the problem. These are the recommended upgrade for aluminum wiring.

Grounding – It is important for your safety to have electrical receptacles grounded within 6 feet of a sink, shower or tub. Best to have all receptacles grounded and GFCI protected as the electrical codes now recommends. Also, GFCI do not operate correctly without ground wires.

GFCI – Ground Fault Circuit Interrupters have been added to the Electrical Codes starting in 1971 around pools, and now include kitchen counter tops (1996), bathrooms (1978), garages (1978), exterior (1973), crawl spaces (1990) and unfinished basements (1987).
---
PLUMBING
Common Water Supply Materials
Galvanized (most of these need to be replaced now because of rusted fittings)
Copper
Polybutylene "PB" (gray plastic supply pipe) has been used in this area for many years, but has had a higher than normal failure rate, and is no longer being widely used. For further details contact the Consumer Plumbing Recovery center at 1-800-392-7591 or the web at http://www.pbpipe.com
PEX
Common Drain Materials
Cast-Iron (dips or bellies that retain water are now rusting through with many of the cast-iron pipes)
Copper
ABS
PVC
We recommend:
Hire a Sewer Scope Company when buying a home. Contact Hydro Physics –website http://www.hydro-physics.com/
Well water testing for Uranium and heavy metals is recommended for mountain properties with private wells. Contact Arrow Well and Septic - website http://arrowwell.com/
Bathrooms - maintain shower grout and caulk, ventilate bathroom when showering, and don't use carpet as flooring around toilets, bath tubes and showers.
Repair plumbing problems ASAP. Prolonged wetness usually leads to mold problems. Dry out wet areas quickly to prevent mold problems. Rent carpet blowers or hire a water restoration company. Drying quickly will most likely prevent the expense of hiring a mold remediation company.
Know where your water shut-off valve is located.

HVAC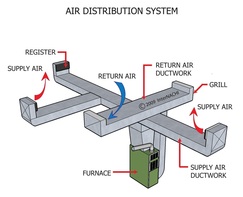 Types of Heating Systems
Forced Air – Gas furnace heat exchanger heats air that is circulated through ducts (see diagram)
Hydronic – Gas boiler heats water that is circulated through pipes
Electric – Electricity heats element that radiates heat across the room
It is recommended that you have a professional service the unit each year before the cold season begins.Gas Tracer testing is the best way to check the heat exchanger on furnaces for leaks.
---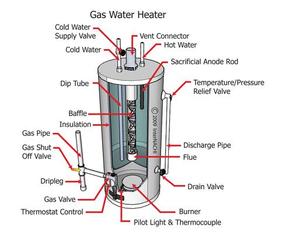 Water Heaters
Gas – gas burner heats water. Gas water heaters generally have faster recharge rates
Electric – Element heats water. Both tank and tank-less types available

A catch pan under the water heater is recommended that directs the TPR discharge to a drain.

Tank Sizes:
30 to 40 Gallons 1 or 2 people
50 Gallons 2 or 3 people
60 to 80 Gallons 4 or 5 people
​​
---

EXTERIOR
Gutters and drainage
are important for most homes in our area because of expansive soils. General recommendations are listed:
Downspout extenders that discharge the gutter water away from the foundation are highly recommended.
Keep gutters, downspouts and underground drain-pipes clean so they do not get clogged.
There needs to be a slope away from the foundation for the 1st 5 feet with a drop of 6 inches or more.
Create a no water zone within 5 feet of the house. Trees and plants that need water should be at least 5 feet from the house.
Sump pump discharge needs to be 10 to 20 feet from the house and preferably not on the uphill side of the house.

ATTACHED GARAGE
Firewall separation – There should be no gaps in the 5/8" thick drywall on the wall in the garage between the house and the garage. The idea is to have 1-hour fire-resistance-rated construction separating the house from the garage. The drywall acts as a fire barrier to slow down a fire spreading to the house from the garage. Details available at ICC International Code Council
http://publicecodes.cyberregs.com/icod/ibc/2009/icod_ibc_2009_7_sec006.htm
Door reverses – Garage doors need to reverse when met with resistance.
SAFETY
Smoke Alarms
– Newest recommendation is to have a smoke alarm in each bedroom
Carbon Monoxide
– Detector needs to be within 15 feet of each bedroom
Overhead Power Lines
– Should be 10 feet above walking surface and 12 feet above driveways
Handrails
– stairs with more than 4 risers/steps should have a handrail 34 to 38 inches high.
Environmenta
l – Radon, Mold, Lead Paint, Asbestos, Formaldehyde, VOC's, Meth Contamination
CDPHE Website
https://www.colorado.gov/pacific/cdphe/categories/services-and-information/environment
CDC Website
Center for Disease Control - Healthy Homes web site
http://www.cdc.gov/HealthyHomes/